12th July , 2009
__________________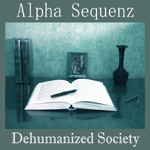 After all those months of intense work in the brand new Shelter 2 Studios, the new Alpha Sequenz album is now OUT for everyone's pleasure.

The release includes 16 new songs that are trying to depict another face of Alpha Sequenz ability to re-invent themselves. With this "Dehumanized Society" Industrial Digipack CD (SD015), the band gained maturity in sound and composition as well. The record is obviously continuing the path opened by the "Bass Line Experiments" CD, but with a much stronger presence and a far bitter contemplative & determinated mood/soul.
All tunes are using Drum machines + Drum Pads, Bass, Guitar, Voice, Piano, Diverse Wind Instruments...More acoustic than Electronix despite analog synth touches can be heard here and there.

Post Synth Strategy...with this time, a more pronounced Coldwave, Darkwave and Psychedelic touch. The tempos are slower and slower as the album runs, so that's a perfect album for our oppressive summer heat.
No to be missed. Check it out in our SHOP section.
11th July , 2009
__________________

Some news about the "SHDR label health" indicates that we're going fine. The Alpha Sequenz "Axial Equilibrium LP" sells good.

Here you can find a montage showing some infos found about it on the web including chronicles from UK serious Magazines, distributor appearances, other partners labels, friends sites & diverse appearences in many radio shows ( like SONGS OF PRAISE from Paris, France or WEST ADD RADIO from San Francisco) and much more ...enjoy !!!
<< Click on the picture to enlarge


Other infos shows the Alpha Sequenz "Axial Equilibrium LP" at the 6th position on the RA DJ Chart from November 2008. No more than this :
<< Click on the picture to enlarge


Again, some SHDR friends from the association Douche Froide specialized into post-industrial and minimalist experimental music styles already played a couple of Alpha Sequenz songs including Weariness of life, Naughty lenght among many many others...(merci beaucoup !)
To put and end, a chronicle of the last Trendy Store - "New Everything !" CD album can be found on the website from the French Magazine Obsküre :
<< Click on the picture to enlarge
Only positive and good news, so.

1rst January, 2009
__________________

SHDR would like to thank all the people involved ( first you, the listener and the artists/ musicians ) through this year as it's time now to review all that positive work that has been done for 2008. No more than 7 full albums have been released in just a 12 months period...lot of work, patience, efforts, determinations, time and energy. We don't regret anything regarding to the fruitful friendship that we had in return. For the others that missed what they missed, there's nothing pleasent to say.

But, we really want to wish everyone who will recognize himself a very good & contructive New Year 2009. May this "2008/2009 Path" be a personal enlightenment for his own mind and soul !
You can have some preview of the 2009 calendar in the SHOP Section. 2009 will show a lot of promises, treasures, unique & edgier Post Synth Moments to come. More than Ever.
December 29th, 2008
___________________

To enrich & complete the fruitful "SHDR 2008 season" on a positive note, the second TRENDY STORE CD is now available. The album is called NEW EVERYTHING ! and; as the title indicates, it's a very complete album which has for ambition to open the doors of the Coldwave 80's idioms, re-inventing them into contemporary curves & edgy lines.

A print of our times, party instrumental, partly electronic...a sort of Freestyle Wave Music with character & soul that can't be easily labeled. No need to say : absolutely no pre-conceived tunes & no pressure versus necessity to write a HIT. A quite unique record for a particularly severe winter like the one we're enduring right now.


Have an ear and purchase it now. As usual, large previews are presented in our SHOP.
September 13th, 2008
_______________
As unique event & deluxe product, the first Vinyl/LP of labelmate ALPHA SEQUENZ is now available.
This is called AXIAL EQUILIBRIUM LP (SD013) and it's a total DIY collector strictly limited to 500 copies ( with additional insert and sticker).
This second album of the band covers the early period of the band 2001-2004 and shows a more MINIMAL ELEKTRONIK approach but always with this Experimental COLDWAVE & Etheral touch. Only Unusual Analog Synths are used to create what we call POST SYNTH at SHDR. Pass your order now through our SHOP.
A full official & independant ALPHA SEQUENZ website has been created as well with more INFOS and some very specific stuff like VIDEOS or PHOTOS.
Visit now the ALPHA SEQUEN WEBSITZE.
July 26th, 2008
_______________
SHDR is really proud to present the third album (SD012) from our Coldwave band DIVERGENCE named
"4 TRACK OUTTAKES".




This release contains rare demos originally recorded onto Vintage 4 Track Analog Tape Recorder & some NEW 2008 versions which are putting forward the more etheral and experimental side of the band. 4 Bonus Tracks have been included as well. An unique document now endly edited in a cd full of music. Check it out HERE.
June 1rst, 2008
_______________
This mounth of June gives us 2 new cd additions in our Back Catalogue :
Endly available, the Collector Item from FORMES NOUVELLES (SD007) called ELEMENTS (81-84) appears in a special transparent jewel box including both classic tunes, new songs and unreleased material from this great French New Wave band. Something not to be missed. Sealed release. Check out our SHOP to pass your ORDER.
Then; comes extremely proudly as well, the very first record ever by ALPHA SEQUENZ called BASS LINE EXPERIMENTS (SD011). This cd countains unique & 14 unreleased tracks recorded between 2004 & 2008 and can be resumed as a collection of Post Synth Tune that uses Minimalist Material but here with a standard Coldwave Line-up including lots of Drums/Bass/Guitar/Voice/Synth. Contains 4 Bonus Tracks. Probably the best & edgiest release of SHDR up-to-date. See SHOP.
Another different release of ALPHA SEQUENZ including early material from 2001-2004 will follow in 2008 as well. Be Patient !
April 13st , 2008
_____________________
Nothing more than 3 new fresh releases have been added to the SHDR back catalogue.

SHDR Sampler- Geometrik Muzak
"A representative collection or selection of WorldWide Post Synth Music (1978-2008)"
Included proto-industrial/minimal electronik early 80's legends such as 'Bene Gesserit'(Belgium), 'Ich' (Germany) and 'Spotch Forcey' (France). A great bunch of unsigned edgy DIY analog bands as well. Probably the most ecletic release of SHDR up-to-date.




PATHETIC PENCILS - WIS 19
First debut album in a classious artwork.




PSYCHOSE - BROKEN HEART E.P
Who delivered us here a really robotic release under a single cd format.




Please Check out our SHOP to listen & then pass your order !
December 1st , 2007
_____________________

The Great French Coldwave Band FORMES NOUVELLES that edited many tapes on the confidential 80's EXIL Label ( cf bellow "La Muse Vénale" Compilation Tape / "THE DEFUNT STILL" Tape) has signed a contract deal with SHDR.




This partnership with the band will lead to the release of a CD restrospective that will be called ELEMENTS (81-84).


Release of this Gemm scheduled for January 2008, be patient !

_____________________

Artists are also needed for a SHDR_Post_Synth Sampler Compilation that will be called "Geometrik Muzak (1978-2008) - A representative collection or selection of WorldWide Post Synth Music".
If you're a Lo-Fi / DIY Analog / Experimental / Minimal Electronik Band, then you can send us you demo. This will be edited in 2008.
October 27th , 2007
_____________________
Multimedia Artist Patrick Glassel has been signed to SHDR.
As a Result, his own album "Perplexions" has been released at Secondhand Daylight Records/SHDR_Post_Synth as a strict limited State-Of-Art Package.

The album contains 14 edgy titles and it's called "Gallery of Dreamality".


You can order it through our SHOP SECTION.
Patrick Glassel became also a full member of TRENDY STORE
Dana Young from Testicular Manslaughter joined the new fresh Trendy Store Line-Up as well !
September 22th, 2007
_____________________
New LINK Site, be careful !
Our website has moved to http://www.secondhanddaylight.net
Please take this in account & update your bookmarks.
September 21st, 2007
____________________
Small Notice to recall the impossible Factory Records Festival that will happen at the Plan K (Brussels) on December 15th, 2007




More informations here : http://www.lefantastique.net/factory/index-en.htm
September 14th, 2007
____________________
"Secondhand Daylight Records" name is reduced to "SHDR" and renamed "SHDR Post Synth Label".
Completely New LAYOUT & New SITE . All Sections have been Upated.
NEW BANDS signed and NEW RELEASES shown for September.
Go to our SHOP !